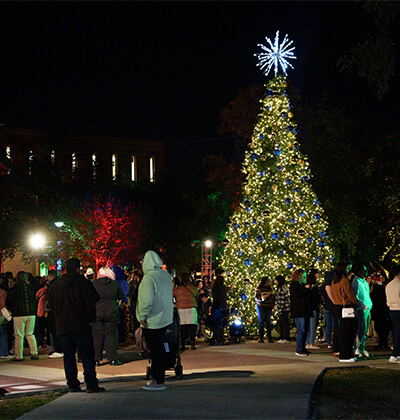 Get ready to light up the St. Mary's University campus with holiday cheer as the Christmas Tree Lighting Ceremony and Alumni Christmas Social returns.  The annual event will begin at 7 p.m., Wednesday, Nov. 29, in Alkek …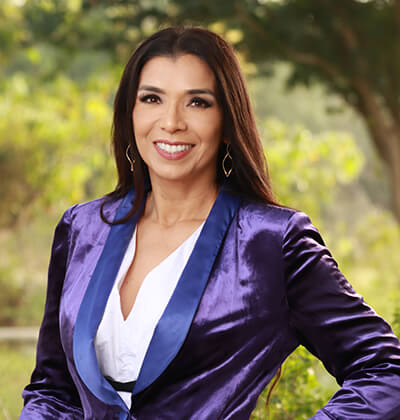 The St. Mary's University Law Alumni Association will honor three graduates at its Distinguished Law Graduate Dinner on Saturday, Oct. 14, at the La Cantera Resort and Spa. The Association hosts the event to fund scholarships and …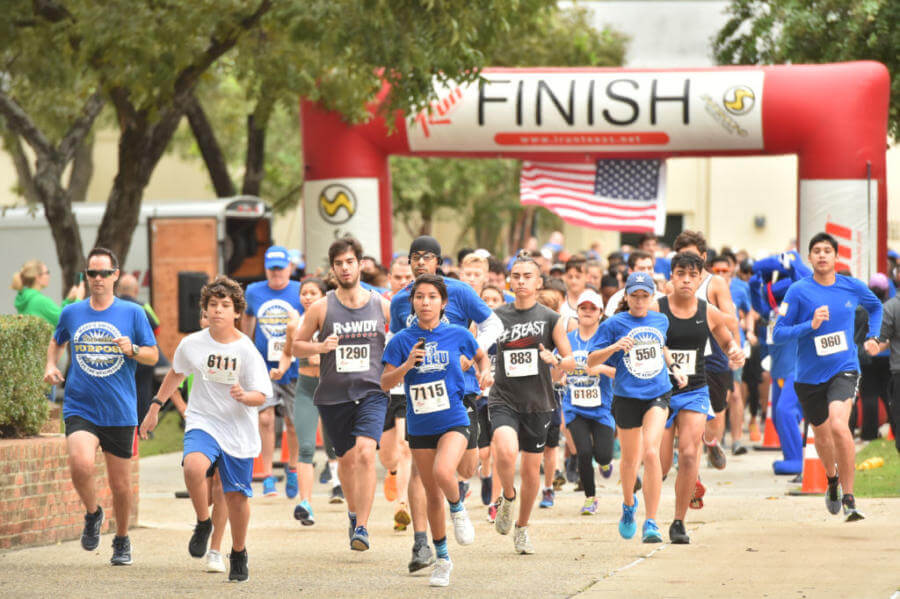 San Antonians run or walk on Saturday, Oct. 28 Hundreds of runners and walkers of all ages will tie their laces and leash up their pups on Saturday, Oct. 28, for St. Mary's University's annual 5K run/walk — …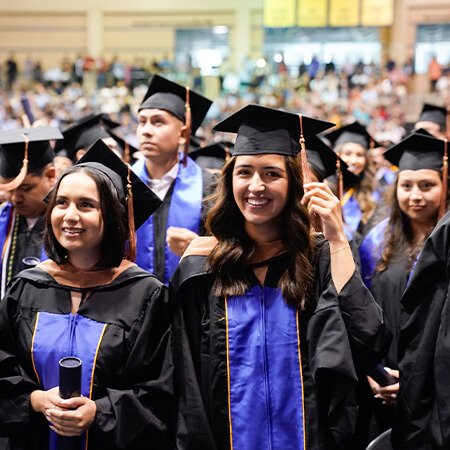 Excelencia in Education, the nation's premier authority in efforts accelerating Latino student success in higher education, announced today that St. Mary's University President Thomas M. Mengler, J.D., has chosen to be part of the Presidents for Latino …
School of Law Gold & Blue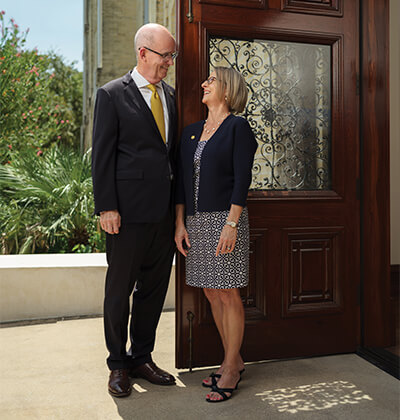 Over the course of 12 years, Thomas Mengler — the second most famous face of St. Mary's behind Rattler Man — shared his vision of expanding the University's Catholic and Marianist traditions.
Nearly a dozen years of visionary leadership and unwavering dedication have reshaped St. Mary's University under the guidance of President Thomas M. Mengler, J.D.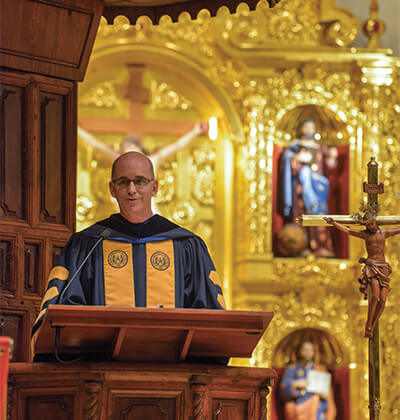 Since being selected as the University's 13th president, Thomas Mengler's goal has been to make St. Mary's not just a top-notch Catholic institution in the Southwest, but a premier university where people can "revitalize and expand" what makes exceptional Catholics and servant leaders.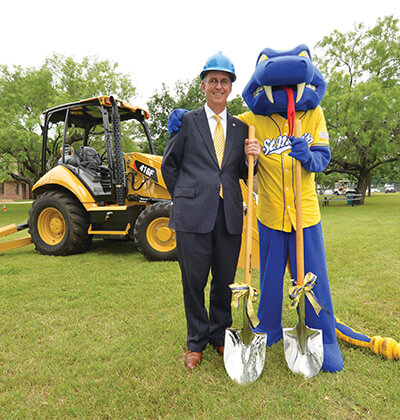 Focusing on educating students to think beyond themselves, the core curriculum is instrumental to giving them a liberal arts education integrated with Catholic and Marianist values.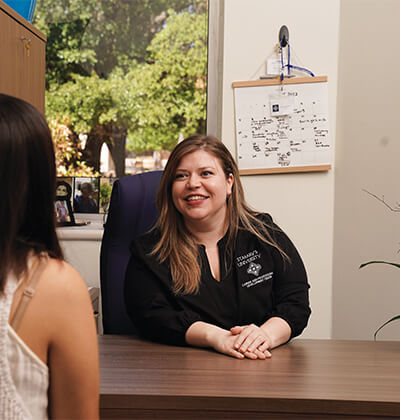 Through grants and a realigned career services office, the University's faculty and staff continuously look to improve the college experience, give hands-on learning opportunities and pinpoint a vocation that aligns with students' passions.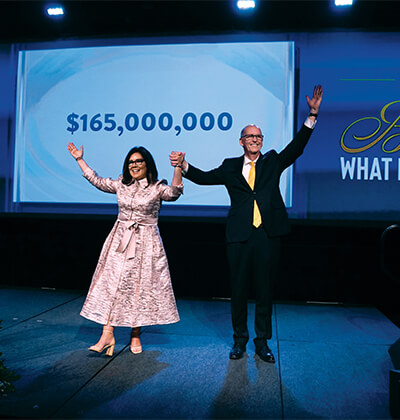 The success of St. Mary's University's largest campaign didn't happen without President Thomas M. Mengler, J.D., logging thousands of miles, shaking hundreds of hands and emphatically sharing a vision about the future of its campus and schools.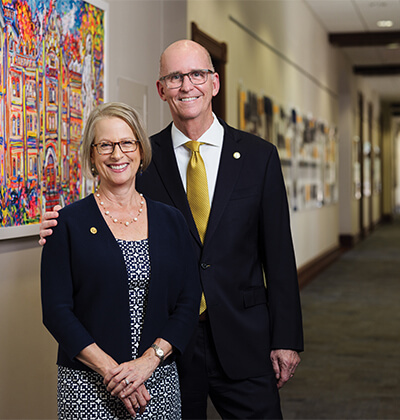 Since 2012, Tom and Mona Mengler have embraced St. Mary's University, the Marianist charism and San Antonio. The couple shares their thoughts on what the University's community has meant to them.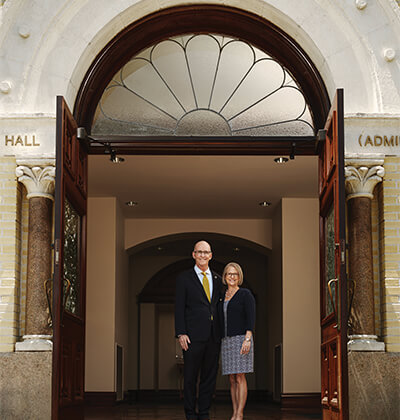 As Thomas M. Mengler, J.D., prepares to retire as the 13th president of St. Mary's University, those who worked closest with him and his wife share their thoughts on the couple.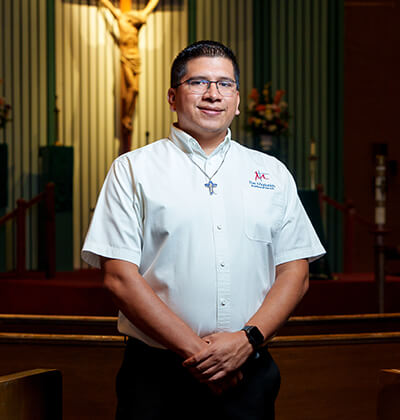 As a young criminal lawyer in his home state of Querétaro, Mexico, Guillermo "Memo" Peña Contreras had no interest in the priesthood. Peña Contreras imagined life as a priest would leave him stuck inside a parish in a sedentary life.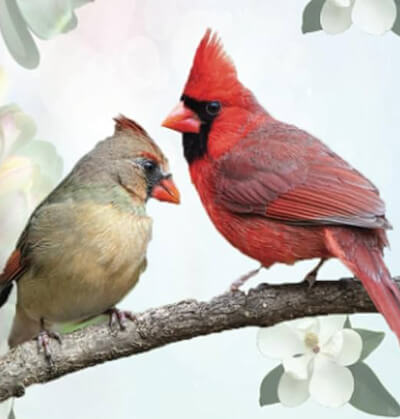 Poetry, public relations, knitting and novels about crime and culture — these recently published books from St. Mary's University alumni cover a wide variety of fascinating topics.